Overview
The Great Basin Center for Geothermal Energy (GBCGE) was informally organized within the Mackay School of Mines at the University of Nevada, Reno in May 2000. The formation of the GBCGE was in response to new congressional initiatives for accelerated development of renewable energy sources in the western US. Funding has primarily been provided by the US Department of Energy, and supports research into many aspects of geothermal exploration and development, as well as education. Dr. Bridget Ayling is currently the Director of the Great Basin Center for Geothermal Energy.
Many of our research and exploration projects have been published at the annual meeting of the Geothermal Resources Council. For publications view the GRC library or contact faculty and staff directly.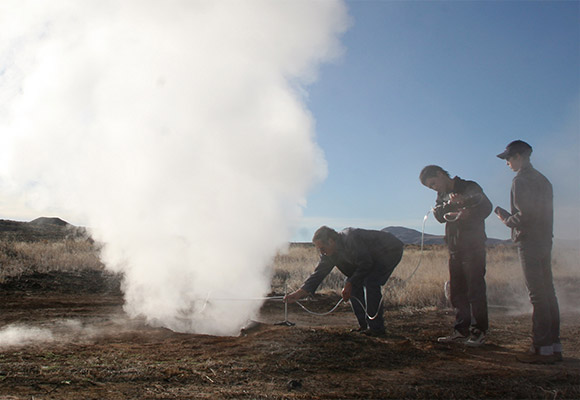 Vision
The Great Basin Center for Geothermal Energy to become internationally recognized as center of excellence in promoting the development of geothermal energy as an economically viable and clean energy source.
Mission
The mission of the Great Basin Center for Geothermal Energy is to work in partnership with U.S. industry to establish geothermal energy as a sustainable, environmentally sound, economically competitive contributor to energy supply in the western United States by:
Providing needed and timely information on geothermal resources,
Identifying key policy, regulatory, economic, social/cultural and environmental issues,
Identifying and evaluating new and emerging technologies for geothermal energy production, storage, transmission and use,
Fostering new scientific and technological developments,
Facilitating outreach, training and communication between geothermal energy stakeholders.
Expertise
Develop and refine techniques to identify and evaluate geothermal systems
Validate new methods of exploration and reservoir characterization
Develop models for different types of geothermal systems
Understand favorable structural settings for geothermal systems
Numerical modeling, fracture and uncertainty analysis
Reservoir fluid and heat flow modeling
Explore new materials to improve heat exchanger wear resistance and conductivity
Expand plant operations profile through new methods of evaporation-condensation
Create nanomaterials and coatings that improve corrosion resistance for next generation geothermal pipelines
Train MS and PhD students in geosciences and engineering fields relevant to the geothermal industry
Lead the National Geothermal Academy summer program
Collaborate with community colleges on technician/operator training programs
Engage undergraduates and graduates in industry-sponsored internships
Provide data and information on geothermal resources within the state
Detailed analysis and assessment of regional resources
Geologic and structural mapping
Spectroscopy to identify mineralogy in the field, hand samples, and drill core
Remote sensing to map geothermal indicator minerals
Fault identification using low sun-angle photography and LiDAR data
2 m temperature surveys
Trenching across seismically active faults
Gravity data collection and analysis
2D/3D seismic surveys
Geodetic analysis of crustal strain
Geochemical analysis of soil gases
Geochemical and isotopic analysis of spring and well fluids for geothermometry and ground water linkage
Real-time seismic monitoring of active reservoirs
Micro-earthquake assessment of induced seismic hazards
GIS compilation of data
3D modeling of geothermal systems
Ground displacement monitoring using InSAR data
Drill core analysis